Are you a producer, musician, or songwriter? Surely at some point you will need a studio for recording drums.
We give you the keys to find the right place for recording drums.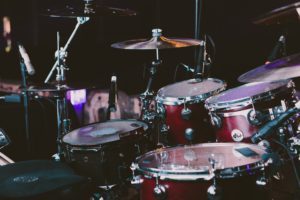 Nowadays it is easy and cheap to set up our own home studio. You only need a computer, a microphone and an audio interface to record guitars, voices, keyboards, etc … But, what happens when we want to record drums? That complicates the matter further, since the gear and the room needed surely runs out our budget. It's time to search in Google "Drum recording studio". Obviously the results will be many and very different. It is important that you pay attention to all the offered options.
Let us not fool ourselves: to record a drum kit you need a large recording room. And of course it should be duly soundproof and acoustically treated. A large recording room is needed for a big drum sound.
Studio 
Gear
for
 recording drums
In addition to the large recording booth, what do I need to record drums? Look at the different options offered by the recording studio. It is important that the studio gear is A class, since the sound of the drums will determine all your mix.
Among the gear needed to record drums, you should ask about the following studio equipment:

They are the first step in sound recording. There are microphones for drums of very different qualities. Do not be fooled!. Make sure that the recording studio has the brands and models that are considered "top quality" in music production.
Best drum mics for recording:
(These are just some of the microphones for recording drums).
Just a few people know their function. A mic preamp amplifies the electric signal (microvoltage) that comes from the microphones, and converts it into an operative signal. This process will give a special character to the sound of drums. There are many preamps used for record drums. Every recording studio should have some of these brands:
Best Mic preamps for drums:
Audio Interface 
or
 AD/DA 
converter
Two different names for the same device. An audio interface is used to convert the analog signal (that comes from the preamps) into a digital signal. Only in this way it can be "understood" by the computer. It can be considered the cornerstone of any recording studio. If you are going to record drums, make sure that the studio has a TOP AD/DA converter. Your drum sound deppends on the audio interface.
Best Audio interface for recording drums:
Antelope

 

Orion

 32 

AD/DA converter
Apogee

 

Symphony

 

AD/DA converter
Lynx Studio Aurora 

AD/DA converter
Experience
 in drums recording
It is also important to know the resume of the recording studio. In what projects have been envolved? Do they have experience recording drums? How do the records that came out of that recording studio sound?
Once you have compiled all that information, it is time to decide on the most suitable drum recording studio. Of course your budget will play a fundamental role… and there we feel we can not help you!